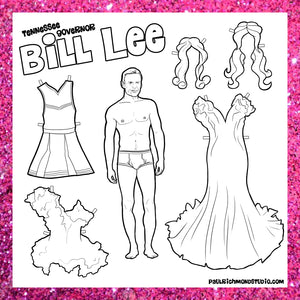 Tennessee Governor Bill Lee Drag Queen Paper Doll Coloring Page
Tennessee Governor Bill Lee believes drag should be illegal - for everyone but himself. On the very week he pledged his support for a bill banning drag performances in his state, a photo turned up of the leggy governor sporting a teased up wig and cheerleader skirt. I think Gov. Lee would be much happier if he got back in touch with his inner drag queen, so I created this paper doll coloring page in his honor.
Add to your cart and checkout to download the hires coloring page for free. I would love to see your creations - and I'm sure he would too! Be sure to tag us both on social media so we can check them out.