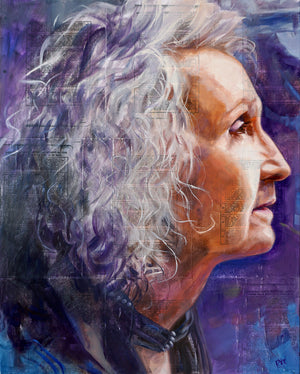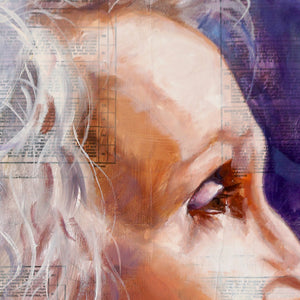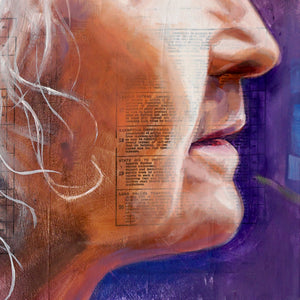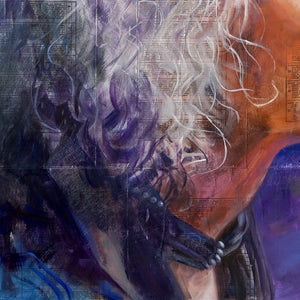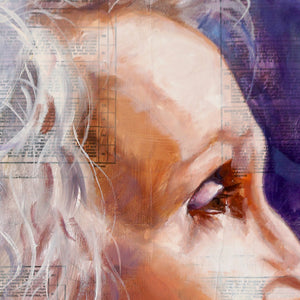 Linda Regula, Muskingum County painting
Medium: oil on canvas
Surface: Canvas, unframed with painted edges
Width: 24 inches
Height: 30 inches
Depth: 1 inch
CERTIFICATE OF AUTHENTICITY
Each piece you purchase will come with a certificate of authenticity, a signed document proving the authenticity of the work and containing details about the artwork for your reference.

©2020 Paul Richmond 
Linda Regula, Muskingum County
"As a female born in the hollers of West Virginia, in 1944, I lived in a black and white world. Few families living around us owned vehicles at that time, so I never heard of anyone walking out of the mountains to vote. I attended a one-room school. We had no television, newspapers, radio, or telephone, so we were virtually cut off from the outside world. We depended on the mountain grapevine (word of mouth) to hear news not associated with those actually living nearby. Girls and women were repeatedly told by dominate males that 'a woman's place is in the home, and you should leave thinking to us men.' I can't remember any of my female relatives, my grandmother, or my mother, ever speaking of voting during my childhood. As a teenager, I came to live with my sister in Ohio, and the world opened up to me. At eighteen, having studied the history of our country, I was thrilled to vote in my first election, and in each one since then."
"Someone struggled for your right to vote. Use it." -SUSAN B. ANTHONY
Voting rights in the United States have a complicated history, with numerous regulations implemented to prohibit people from participating based on gender, ethnicity, religion, immigration status, age, and more. Yet the right to vote is frequently taken for granted in our modern society, with only 54% of eligible voters taking part in the 2016 election.
In this series of oil paintings, I am choosing to portray individuals from historically disenfranchised groups who would have been denied the right to vote at some point in our nation's history. Some of the models are still unable to vote today. Each figure is painted on top of collaged ballots and voting pamphlets from a significant election in their group's history. For example, the background for a female model might be comprised of 1920 ballots - the first election in which women could vote. Each piece is titled with the individual's name and voting district, and is accompanied by a quote about the significance of voting to them.
This series represents a stylistic departure from my recent work. I've been painting in a thick, impasto style with bold colors and expressive marks. In this series, to preserve elements of the collaged backgrounds, I am exploring a lighter touch - one that allows the figurative and textual elements to merge on the canvas. The marks and colors retain an expressive quality, but the outcome is more subtle.
My aim is to create a sense of connection with the subject, evoking empathy and awareness of our common humanity. By portraying marginalized individuals and highlighting their unique perspectives as well as their group's struggle for voting rights, I hope to inspire viewers to consider the importance of their own participation in our country's election process.