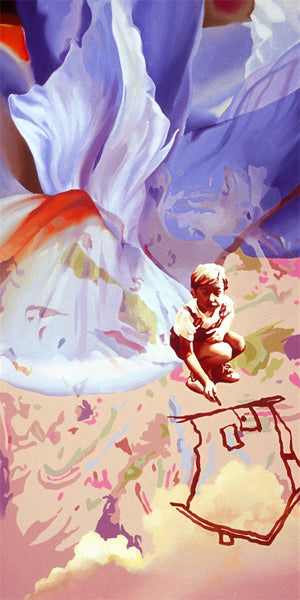 A Place of My Own painting
Medium: oil
Surface: canvas
Height: 36 inches
Width: 18 inches

CERTIFICATE OF AUTHENTICITY
Each piece you purchase will come with a certificate of authenticity, a signed document proving the authenticity of the work and containing details about the artwork for your reference.
©2007 Paul Richmond
This piece was created for auction at the Ins and Outs gallery benefit for Kaleidoscope Youth Center. It represents the pivotal role that art and self-expression have played in my life, beginning at a very young age. My piece A World Apart, uses a similar combination of subject matter (flowers, child, house, clouds) to paint a very different depiction of the isolation and doubt that plagued much of my early life. This piece presents the safe and nurturing space I was able to create for myself, with the help of an encouraging mentor, that allowed me to freely explore my creativity. In working with the youth who participate in programming at Kaleidoscope, an organization for GLBT teens, I hope to help them find a place of their own as well.