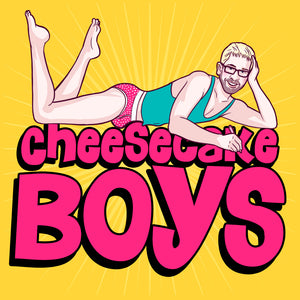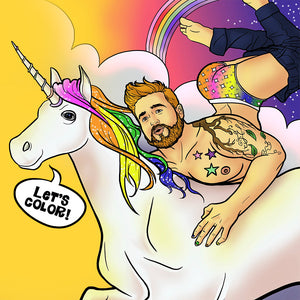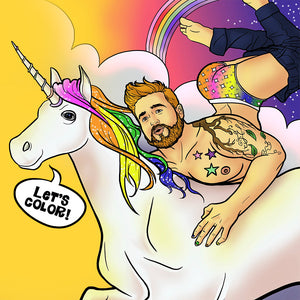 Cheesecake Boys Weekly Coloring Pages
Pin-Up Boys to Color!
The Cheesecake Boys are my ode to the classic pinup girls of yesteryear -- with one major update: the damsels in distress are dudes! 

Pinup girls from the '40s and '50s had such a hard time keeping their clothes on. A loose nail, a curious pup, or even a brisk wind all seemed to exist for the purpose of disrobing unsuspecting cuties. But one important question has gone unanswered—until now: how did men always manage to dodge these obstacles? Now it's time to even the score!

Welcome to the colorful world of the Cheesecake Boys, pinups for a new generation where skin-baring wardrobe malfunctions take an equal opportunity approach. 

I've been painting Cheesecake Boys for years. In 2017, they became the stars of my very first adult coloring book. 

Now pinup mania has begun! People from all over the world are grabbing their crayons and markers and giving these boys their magic touch. I can't describe how cool it is to see everyone's awesome interpretations! 
I started this Patreon page because I want everyone who loves coloring the Cheesecake Boys to be able to get more involved. Plans for a second book are already underway, and we've hosted Cheesecake Boys Coloring Parties all over the country. I want to see these boys travel all over, and the money we raise together will help them do just that. And you have my word -- it will never ever be used to buy them belts or pants that fit! 
About Me
My name's Paul Richmond and I'm a painter/illustrator from Monterey, California. When I'm not drawing pinup boys for you to color, I am probably making paintings, book covers, or videos for my  YouTube channel. My artwork has been shown in galleries all over the country and is collected by people around the globe. You can check out my work on my website. My husband's name is Dennis and we live in Monterey, California. I have a lot of fun doing the work that I do, and I really appreciate everyone who makes it possible!