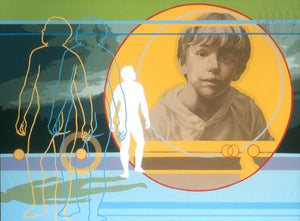 Looking For Something painting
Medium: acrylic
Surface: canvas
Height: 36 inches
Width: 48 inches

CERTIFICATE OF AUTHENTICITY
Each piece you purchase will come with a certificate of authenticity, a signed document proving the authenticity of the work and containing details about the artwork for your reference.
©2005 Paul Richmond
Looking for Something expresses my attempt to integrate my experiences as an adult artist with the identity that began to form so many years before. The image of me as a child is solid and unchanging while the depiction of me as an adult is incomplete. This adult image represents an individual who continues to grow and develop in new, meaningful ways as a man and as an artist.