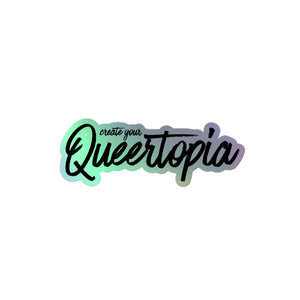 Queertopia Holographic Stickers
QUEERTOPIA
BRIDEN SCHUEREN X PAUL RICHMOND

QUEERTOPIA is our reimagining of the Garden of Eden. In our version there is space for everyone. There is no apple of shame. QUEERTOPIA is JOY and LIGHT. QUEERTOPIA is FREE and FREEING. It is PLAYFUL. It is HAPPINESS. QUEERTOPIA
is COMMUNITY.

ABOUT THE STICKERS
Add some sparkle to your life with these holographic stickers. Made from high-quality vinyl, they're easy to peel and stick, and their adhesive backing ensures long-lasting durability. The unique holographic effect catches the light in a mesmerizing way, making them the ultimate eye-catcher.

• Hot-embossed, which creates a deep 3D pattern
• Durable vinyl, perfect for indoor use
• Fast and easy bubble-free application

Disclaimer: Please note that this product is suitable for indoor use only.