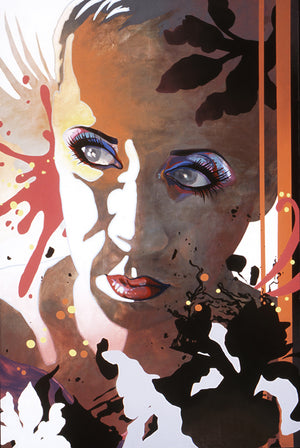 Self Illusion painting
Medium: acrylic
Surface: canvas
Height: 72 inches
Width: 48 inches

CERTIFICATE OF AUTHENTICITY
Each piece you purchase will come with a certificate of authenticity, a signed document proving the authenticity of the work and containing details about the artwork for your reference.
©2009 Paul Richmond
This painting is a graphic representation of the ways in which I attempted to figure out what aspects of living a gay lifestyle fit with who I was as an individual. In Self Illusion, I portray myself wearing one of the many masks that I tried on - a mask of bold, unapologetic, in-your-face flamboyance that couldn't completely conceal my deeper desire for something more real.