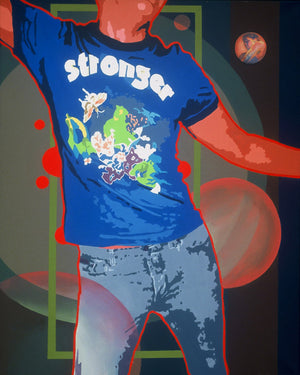 Strong Enough painting
Medium: acrylic
Surface: canvas
Height: 30 inches
Width: 24 inches

CERTIFICATE OF AUTHENTICITY
Each piece you purchase will come with a certificate of authenticity, a signed document proving the authenticity of the work and containing details about the artwork for your reference.
©2005 Paul Richmond
Strong Enough is about when I was coming to terms with my sexuality, beginning to embrace it and reach a level of acceptance. On some level, it was representative of a period where I did feel like I was gaining strength in my identity as a gay man. At the same time, I also realized that there was an internal feeling of emptiness beginning to develop. Even though I was beginning to embrace my new lifestyle, somehow there was something still missing. I was stronger but not yet strong enough.